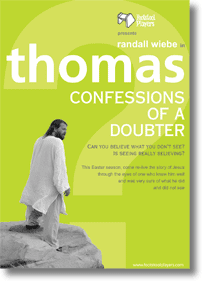 Can you believe what you don't see?
Is seeing really believing?

The story of Jesus through the eyes of one who knew him well – and was very sure of what he did and did not see.

Footstool Players is proud to have hosted Randall Wiebe's hour-long one-man performance of Thomas: Confessions of a Doubter for a limited season over the Easter period in March and April 2005.

Written, produced, directed and performed by Randall Wiebe, and co-directed by Royal Sproule, Thomas: Confessions of a Doubter has been performed extensively in Canada and the United States, and now, Malaysia.

Drawn from the scriptural accounts of the life of Jesus, this play captures not only the story of his ministry, death and resurrection, but also the all-too-human struggles faced by those who followed him. Seen through the eyes of Jesus' most skeptical disciple, Thomas, it explores what it might have been like to be a follower of Jesus in first century Palestine, as well as the just-as-relevant questions of how one deals with issues of faith and doubt.

Thomas tells the story of his life with Jesus directly to the audience, involving them in his emotions and thoughts. The biblical stories are presented accurately, but with the additional drama (and humour) of the emotions of the people behind the stories.