Footstool Players was established in May 2001 to provide quality entertaining and thought-provoking dramatic productions for the Malaysian Church, to challenge Christians and seekers alike with regard to matters of faith. We also seek to encourage and equip the Church in using theatre as a medium of communication.

Footstool Players grew out of the drama ministry of Subang Jaya Gospel Centre, and now operates as an inter-denominational ministry to the broader Church in Malaysia, and to the community at large. Its founding members are Colin Kirton, Geraldine Teoh, Jonathan Tan, Sean Low (L-R in photo) and Jennifer Ho.

We have recently begun to take our productions beyond Christian circles to the broader community in taking up issues that run across religious borders. While still shaped by a Christian worldview, these can be appreciated by people of other faiths as well.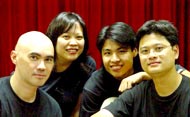 Our name is derived from Psalm 99:5, which calls us to "Exalt the Lord our God, and worship at his footstool." We see our dramatic efforts as a means of exalting God – a personal and collective expression of our worship of him – and the image of the footstool is symbolic of that humble place of meeting between ourselves and God, and the submission of our creative gifts to him.

Our productions are typically performed in a contemporary style, with ample doses of humour and poignancy alike, and are suitable for a wide age range, from older children through to seniors.