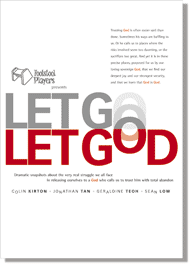 Trusting God is often easier said than done. Sometimes his ways are baffling to us. Or he calls us to places where the risks involved seem too daunting, or the sacrifices too great. And yet it is in these precise places, purposed for us by our loving sovereign God, that we find our deepest joy and our strongest security, and that we learn that God is God.

Let Go...Let God is a 55-minute play comprising 6 sketches about the very real struggle we all face in releasing ourselves to this God who calls us to trust him with total abandon. While many of the themes may be more significant for Christians, non-Christians will also find the issues the play raises challenging.
The sketches are:

UNFAMILIAR COUNTRY - by Steve Trott
Abraham reflects on God's call to leave his homeland for an unknown destination (Gen 12:1; Heb 11:8).

THE WIND OF THE SPIRIT - by Paul & Nicole Johnson
A sailor who wants to strike out to sea has an amusing but poignant argument with another who is content to paddle in the dock. This modern parable challenges us to surrender our fears and allow the Holy Spirit to steer our lives beyond our comfort zones (Jn 3:8; 2 Tim 1:7).

SUSTAINING - by Deborah Craig-Claar
A married couple wrestles with the issue of God's will while a loved one is on life-support.

A MOUNTAIN IN MORIAH - by Steve Trott
Abraham and Isaac struggle with the strange purposes of a God who has been faithful to them, and yet now calls them to make a profound sacrifice that seems inconsistent with his character and promises (Gen 22:1-12).

SMALL CRAFT WARNINGS - by Charles Reese
Jesus' disciples, facing a violent storm, futilely depend on their own savvy and experience to get them out of their predicament, oblivious to the presence of the Creator in their little fishing boat (Mk 4:35-41).

THE ALMIGHTY GOD IS WITH US! - by Charles Reese & Colin Kirton
A dramatised choral adaptation of Psalm 46 that declares God's sovereignty and trustworthiness in the ups and downs of our lives.