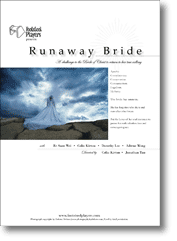 Apathy. Complacency. Compromise. Consumerism. Legalism. Idolatry.
The Bride has amnesia.
She has forgotten who she is and runs after other lovers.
But the Lover of her soul continues to pursue her with relentless love and extravagant grace.
Runaway Bride is a challenge to the Church - the Bride of Christ - to return to her first love and her true calling. It is a collection of seven sketches combining satirical comedy and poignant dramatic storytelling that point out the maladies that subtly or blatantly affect the Church today, and urge us to rethink our passion and our mission.

The sketches are:

THE WEDDING - by The Jeremiah People
At her wedding, the bride thinks twice about this marriage she's getting herself into. Is love enough? And what does love cost?

McCHURCH - by Jeff Smith and Wayne Sigler
At a fast-food restaurant, customers drive in for a quick meal according to their likes and fancies. Has church become what we want it to be rather than what God wants it to be?

PHARISEE BOOT CAMP - Author unknown
A new Pharisee recruit is introduced to self-righteousness and legalism by his 'Holiness Instructor' .

THE UNTOUCHABLES - by Steve Trott, Colin Kirton and David Lampel
Four people - society's "untouchables" - look for a place to be accepted. Is there a place in our church for them?

MERCY GENERAL - by Charles Reese
Sinai Medical Hospital has all the best expertise and facilities, but they seem content to merely maintain the health of the healthy. A challenge to move out beyond our comfort zones to reach the spiritually sick. (Mk 2:17)

SALT AND LIGHT - by Charles Reese and Colin Kirton
A dramatic reading which reminds us of the Church's God-invested role as salt and light in our world. (Matt 5:13-16)

LOVE STORY - by Charles Reese
This contemporary adaptation of the biblical story of Hosea and Gomer is a testimony to God's grace to his Church, that in spite of our failures and disloyalties as his Bride, he still loves us relentlessly and extravagantly and desires to woo us back to himself. (Hos 1-14)

Directed by Colin Kirton and Jonathan Tan, and performed by Ee Soon Wei, Colin Kirton, Dorothy Lee and Adrene Wong
SUITABILITY
Runaway Bride is particularly targeted at a Christian audience. Non-Christians will however still be able to identify with some of its themes. Age-wise, the play would be appreciated by teenagers through to seniors. Parental guidance may be needed for pre-teens; there are references to prostitution, rape, incest and abortion, and the use of some satirical devices may need clarification to avoid misunderstanding.
LENGTH
65 minutes
WHAT AUDIENCES HAVE BEEN SAYING
"Thank you for being bold enough to raise questions many Christians would rather sweep under the carpet."
"Powerful and captivating … lots of soul searching questions to ponder over."
"It was a superb performance with a powerful message. I laughed but mostly I cried. I cried for our church. How far we have fallen."
"Very relevant issues raised and powerfully communicated."
"I was shaken, awed, troubled, sobered. Each sketch had its own forcefulness. Great casting, perceptive script (I laughed and ached at the same time) and excellent skills."
"A slap in the face and yet a balm to the heart."
Download Runaway Bride programme sheet with discussion questions here
Photograph used in publicity material copyright by Dolores Neilson (www.photographybydolores.com). Used by kind permission.