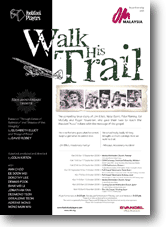 Walk His Trail is a theatrical adaptation of the inspiring and compelling true story of young missionaries Jim Elliot, Pete Fleming, Ed McCully, Nate Saint and Roger Youderian, who were martyred in the jungles of Ecuador in 1956 while trying to reach the Waodani ("Auca") Indians with the gospel.

Based on the best-selling now-classic books "Through Gates of Splendour" and "Shadow of the Almighty", written by Jim's widow Elisabeth Elliot, Walk His Trail is a story about missions, but it is much more than just that. It is a challenge to radical discipleship, exemplified in "reckless abandon to the will of God" (Jim Elliot). It is above all a powerful testimony to the sovereignty of God – even in the midst of tragedy – and to the transforming power of the gospel of forgiveness, grace and love.

Walk His Trail was produced and performed by Footstool Players in partnership with OM Malaysia as a 50th anniversary tribute to these great men of God and their legacy, and as a missions awareness platform to encourage the Malaysian Church to greater involvement in the work of missions in the world today.

Adapted, produced and directed by Colin Kirton, and performed by Ann Choo, Ee Soon Wei, Dorothy Lee, Dennis Pook, Siaw Mei Li, Jonathan Tan, Desmond Teoh, Geraldine Teoh, Adrene Wong and Wong Mun Wai.
SUITABILITY
Walk His Trail is suitable for both Christians and non-Christians, though many of its themes would perhaps be more appreciated by Christians. Age-wise, the play would be appreciated by older children through to seniors.
LENGTH
75 minutes.
AUDIENCE FEEDBACK
"Thank you so much for your excellent portrayal of this story! You have challenged and encouraged us."
"I was profoundly impacted by this powerful performance. It is an amazing, inspiring, overwhelming story that continues to make you think long after the performance. Thank you to all involved for bringing it to life so simply and yet so effectively on stage."
"I was truly blessed. The simplicity of the play brought across the message with such impact. I can still see the scenes in my mind's eye."
"Walk His Trail has been masterfully done, very professional. It was a feat to capture the life and passion of Jim Elliot and his friends in 75 minutes. We were very touched by the performance and I believe it will leave a lasting impression on the lives of the audience."