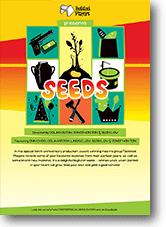 In this special tenth anniversary production, Footstool Players revisits some of your favourite sketches from their earliest years, as well as some brand-new material. It's a delightful bagful of seeds - stories which, when planted in your heart, will grow, yield a good harvest, and feed your soul.

Seeds is a collection of 8 sketches in the style of dramatised storytelling, featuring a mix of comedy and drama. The sketches are based on incidents in the life of Jesus, parables Jesus told, and modern-day parables, each illustrating a key biblical truth - a "seed".

These are:

THE SEED AND THE SOILS - by Paul & Nicole Johnson
A farmer sowing his seed encounters various kinds of soils.

THE BIG SPENDER - by Charles M Reese
A high-rolling big spender gets in trouble with his creditors.

THE TAH-PAU LUNCH - by Charles M Reese
A little boy discovers that the ordinary can be miraculous in the right hands.

THE CRACKED POT - by Footstool Players, based on a folk tale
A cracked pot struggles with its flaw.

THE PEASANT PRINCESS - by Charles M Reese
A peasant girl unexpectedly becomes a princess when she marries a prince.

THE DEPENDABLE SON - by Charles M Reese
A brother becomes bitter when his sibling gets what he doesn't deserve.

LAY DOWN YOUR BURDEN - by Charles M Reese
A woman with a past discovers a future she never expected.

GOD'S CHISEL - by Eddie James & Tommy Woodard
A man finds out that growth can be a painful thing.

Directed by Colin Kirton, Jonathan Tan & Sean Low and performed by Ann Choo, Colin Kirton, Linora Low, Sean Low & Jonathan Tan.

SUITABILITY
Seeds is suitable for all ages 5 years old and above. While there are many references to the Bible and Christian teaching, the play can be appreciated by people of all religious backgrounds.

AUDIENCE FEEDBACK
"It was wonderful! You took all these familiar stories and made them so fresh and contemporary and relevant - and powerful. I was deeply moved."
"Excellent show ... most importantly, the message really came through and spoke to the heart."
"It was brilliant! Not just the acting, but the impact of the messages! Thank you!"

LENGTH
70 minutes

Download Seeds programme sheet here.